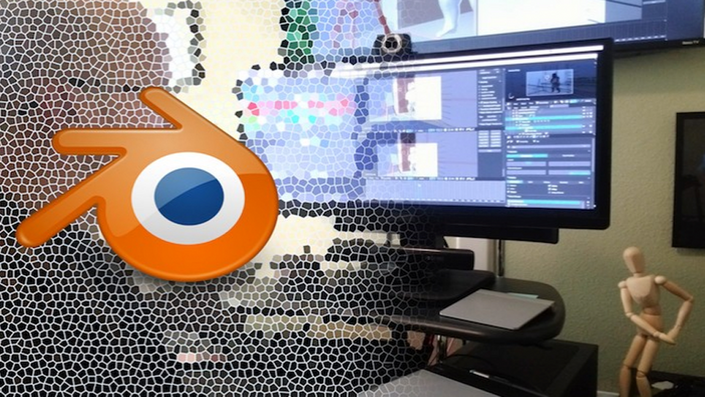 Mastering Blender: the Properties Editor 2.79 & 2.8
Master Blender 3D Creation Software using the Properties Editor
Watch Promo
The Mastering Blender Series for 2.79 and 2.8 and Beyond series of courses is a total in-depth course in the workings of Blender. Blender is an open source 3D animation software program that enables you to create 3D objects for animation, printing, and more. Blender is cross platform meaning the software works for Windows, OS and Linux. It is free and allows many interested in 3D art and animation to explore and create 3D works of their own. Mastering Blender - The Properties Editor Objects & Data is an excellent course for beginners crossing over from 2.79 to 2.8 with regards to understanding objects and object data and how the properties editor is used for creating your projects in 3D. This is the foundation course for my Mastering Blender Series.
The Mastering Blender Course Series covers everything you need to know about the software by educating you on the terminology, giving examples, relating the terms to the software and allowing you to practice on each area as shown in the lessons, allowing you to hone your skills with your 3D art creations with increasingly challenging exercises. This course is covered in a lesson by lesson approach to build your skills as you learn how Blender works. By the end of the course you will have mastered Blender's major editing components with a complete set of skills so that you can truly create a 3D world of your own.
In this master training course, you will master the Properties Editor's Object and Object Data features as well as understand Blender's world and scene settings . This is one of the most used editors in Blender allowing the user to modify scenes, objects and materials. The Properties Editor can be seen in many of the preset configurations of Blender for 3d View, Animation, UV mapping and more. Mastering the Properties Editor gives you the ability to make many of the necessary changes to your 3D World and understand the reasons for the changes you made in Blender. With each section of the course you will practice your skills with what you have just learned and become a master at your craft. we will explore Blender's 2.79 editor and then discuss changes in the new Blender 2.8.
You will also take this knowledge and follow the instructor as you build an antique radio, using the skills you learned in the course. Then you will export your project to Blender 2.8. 2.79 users will be given a walkthrough of the new Blender 2.8 upgrade in our last section, getting you familiar with the new features of Blender 2.8.
You will soon be applying your knowledge to:
Objects and Object data
Creating Groups and Organizing Objects in your Scene
Modifying and Constraining Objects
Create your World and organize your scene
Challenging projects to bring your Blender skills to life
The master course for the Properties Editor is a first of the series of courses designed to give you a thorough training through lecture and practice in the art of Blender. Once you have mastered the properties editor objects, data and world settings, you can continue your education with the Mastering Series, Materials Textures and Physics and further with courses designed to allow you to truly master the craft.
Russell Leavitt is the instructor for this course. Russell has taught media and arts in colleges and universities, sharing his passion for the moving image. Russell explores future media including holographic technologies and is an avid user of Blender for 3D art and animation and Unity. The master courses in Blender combines art technique and technical instruction giving you a complete understanding of how Blender works as it relates to the course so you can use the tools to create your next 3D masterpiece and become a master of Blender.
Beginning students will find this course useful to learn and to advance in your knowledge and skills using Blender. The lessons are available for lifetime access so that you can go back to review or explore key concepts to further your skills in Blender.
It is assumed the student has a Blender installation ready to go. For this course, Blender 2.79 is used as a foundation as we explore the properties editor and then the updates provided in 2.8 are explored as well that are relevant to the course as well a walkthrough of the new Blender 2.8 to get you up and running.
Learn Blender by exploring the Properties Editor. Now you can MASTER Blender today!
Who this course is for:
Beginning and Intermediate Animators and 3D Artists
Artists of all kinds who want to explore 3D graphics and animation
Computer Gaming Enthusiast
Artists Enthusiasts
Blender Artists who want to learn more about the software they use
Your Instructor
Russell Leavitt is currently the Chief Technology Officer for CEED Enterprises LLC, working with a team of professionals establishing the technical vision for Internet companies and leading all aspects of technology and development according to its strategic direction and growth objectives. My task as a Chief Technology Officer for CEED Enterprises LLC is to provide advice and experience in the Internet and digital fields for the online media markets.
His background in film and television production has translated over the years to the digital world. He attended the Academy of Art University in San Francisco with an emphasis on film and television production, leading to a career in the visual arts, producing and directing the Telly Award winning documentary, "Heresy" as well as children and youth programs for regional PBS stations and Warner affiliates. He has co-produced two major video projects for the Cal-Nevada annual conference of the United Methodist Church. He has been a professor for the performing arts and television production at the former Edward James Olmos Teatro de las Americas Performing Arts Academy in Coalinga, California, training students to maximize their filmmaking skills. His work in film and video production has led him to cutting edge research of technology in education and digital frontiers.
As a Computer Arts major from California State University, Russell has explored holographic and virtual reality frontiers, creating his own true holograms and studying the medium and its potential. Currently, he is in production of an animation series using Blender as well as working with CEED Enterprises and online teaching platforms producing online courses for students and exploring new ways to educate others integrating the interactive technologies of Unity and virtual reality.
Course Curriculum
Introduction & Blender Foundation
Available in days
days after you enroll
Objects
Available in days
days after you enroll
Object Data
Available in days
days after you enroll
Frequently Asked Questions
When does the course start and finish?
The course starts when purchased and never ends until you complete the course. It is a completely self-paced online course - you decide when you start and when you finish. This allows you the time to focus on your work on your own schedule.
How long do I have access to the course?
How does lifetime access sound? After enrolling, you have unlimited access to this course for as long as you like - across any and all devices you own. If you have to stop in the middle of a lecture, no worries. I will be there when you return to continue where you left off in your studies.
What if I am unhappy with the course?
We would never want you to be unhappy! If you are unsatisfied with your purchase, contact us in the first 30 days and we will give you a full refund.
Tests! I am not good at them, what can I expect?
Every course has some way to measure your learning progress. But have no fear about tests. There are tests, actually multiple choice, but you are given chances to take the tests again for a better grade. You must make a 70% or better to move on to the next section but you can retake a quiz up to 20 times. If you do not get a passing grade, contact your instructor and he will reset your quiz for you to take again until you answered at least 70% of your questions correctly. You are also given non graded assignments to practice what was taught in the lecture. So rest in knowing that although there are tests, you are given the tools needed to succeed.